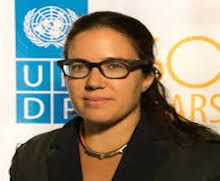 Natalia Linou (Linos)
Steering Committee Emeritus

Natalia Linou (Linos) is a policy specialist at the United Nations Development Programme (UNDP). She has worked in international development for the last decade, mostly with the United Nations in Beirut, Lebanon and at headquarters in New York.

Her current role as part of UNDP's HIV, health and development team is focused on the prevention of non-communicable diseases and on developing an emerging area of work for the organization at the nexus of public health, environmental sustainability and gender equality. She previously served as Science Advisor to the New York City Health Commissioner, Dr. Mary Bassett and as a speechwriter for UNDP Administrator, Helen Clark. Natalia has a doctoral degree from the Harvard Chan School of Public Health in social epidemiology and an undergraduate degree in social anthropology from Harvard College.